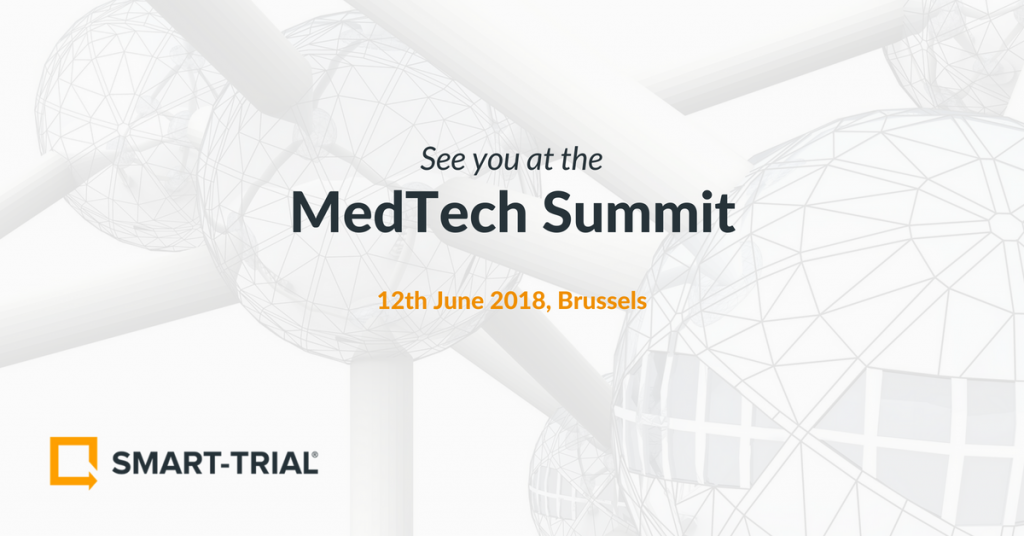 SMART-TRIAL will attend the MedTech Summit hosted in Brussels this June. It takes place at Hotel NH Brussels Bloom from the 11th until the 15th of June. 
SMART-TRIAL  is an exhibitor and is represented by Jón I. Bergsteinsson   Cofounder & VP of Business Development. You can catch him on Day 2, Tuesday 12th of June where he will be answering questions about SMART-TRIAL. How the platform can help reduce chaos surrounding data collection and management. Furthermore, how SMART-TRIAL provides medical device manufacturers a unique toolbox to manage and collect clinical evidence
The MedTech Summit Brussels 2018
The Summit aims to address topics such as the EU MDR, Medical Device Law, IVDs, Clinical Evaluations & Investigations, Drug Device Combination Products, Post Market Surveillance & Vigilance, Regulatory Affairs in Emerging Markets and, Sterilisation and Reprocessing. The Summit assists companies preparing for compliance with over 450 industry experts.
You can find more information on the program below:
MedTech Summit – Brussels 2018
You can also read more on our blog about Navigating the new MDR – Strategies for Success & the Changes, Challenges & Contributions the new MDR brings with it.
We look forward to welcoming you in Brussels. Make sure to get in touch, if you are attending.
For further information please contact:
Jón Ingi Bergsteinsson
MEDEI ApS
Vice President for Global Business Development
Tel: +45 42 70 70 03
Email: jib@medei.dk